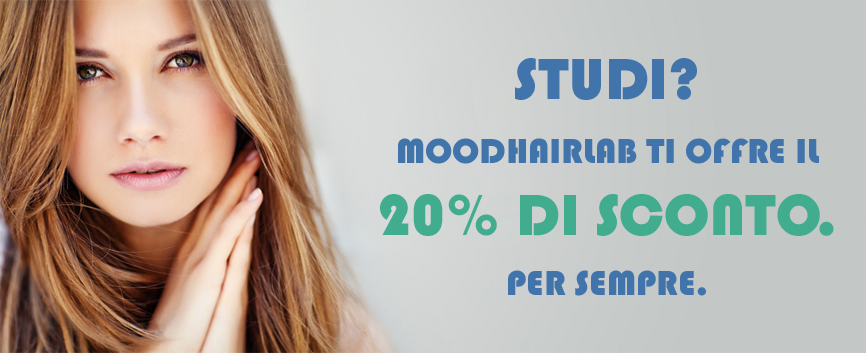 Hairdresser: student discount in Rome -20%
The hairdresser is not a whim. It is a way to cultivate one's well-being and to feel better about oneself. Image, yes. But also the search for balance.
Precisely because we know how important the work we do is, we offer a discount to students on all our services (excluding the fold).
Thanks to the student discount, the hairdresser costs 20% less for women and 15% less for men. If you are looking for a low cost hairdresser in Rome but do not want to give up all the quality and professionalism that your hair certainly needs, Moodhairlab will meet you with this student promotion tailored for those, like you, looking for the better but can't spend a fortune.

Remember: to get a 20% discount from the hairdresser (or 15% if you are a man), just book by phone (06-77071540), follow our Facebook page, tell us you're a student and show us a student card when you come (or a document certifying that you are enrolled or enrolled at the university). We will give you a card that you can keep with you and use as often as you want.
One important thing: the discount is valid every time you come. But don't miss the fantastic hairdresser promotion for all our new customers: the first time you come to the salon, you'll get a 40% discount!
Going to the hairdresser with the student discount in Rome will no longer be a problem for the student's portfolio and does not have the possibility of spending excessive amounts. Moodhairlab thinks about it!